Fractures
Jean-Yves Maigne, MD

Fractures are often listed as a cause of coccydynia and many patients claim that their coccyx has been fractured. This is only partially true. The coccyx, as a bone, practically never breaks. The sacrum does. The coccyx never breaks because it is made of bones and joints (or discs) alternately, these latter being the weak point. Thus, when the force is applied distally, a rupture of a joint can follow, leading to either an intermittent luxation or an hyper mobility in the majority of the cases. If the force is applied a bit higher or if the coccyx is solid enough to behave as an arm of lever, the distal part of the sacrum will break. There is no problem in diagnosing these fractures (except in our cases #5 and 6) and the fracture heals spontaneously within 2 or 3 months. Recently, I found two cases of a real coccygeal fracture (see cases #9 and 10). Sometimes also, an actual sacral fracture is (wrongly) labeled broken coccyx (see cas #6).

Les fractures sont souvent dans la liste des causes de coccygodynie et de nombreux patients croient leur coccyx fracturé. Ceci n'est que partiellemetn vrai. Le coccyx, en tant qu'os, ne se casse pratiquement jamais, contrairement au sacrum, parcequ'il est constitué alternativement d'os et de disques, ces derniers constituant le point faible. Ainsi, quand une force est appliquée sur le coccyx, une rupture du disque peut survenir, avec une luxation ou une hypermobilité comme conséquence. Si la force est appliquée plus haut, ou si le coccyx est suffisament rigide pour agir comme un bras de levier, c'est le bout du sacrum qui va se briser. Ces fractures sont faciles à diagnostiquer (sauf les cas 5 et 6). Elles consolident spontanément en 2 à 3 mois. Récemment, j'ai pu observer 2 cas de vraie fracture du coccyx (cas 9 et 10). Parfois, une vraie fracture du sacrum est (à tort) étiquetée fracture du coccyx (voir cas n°6).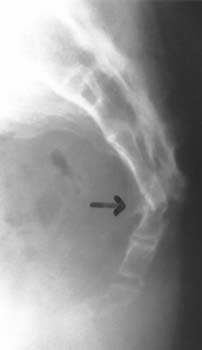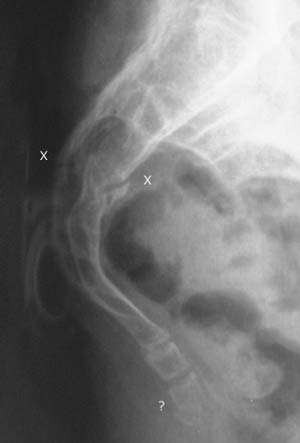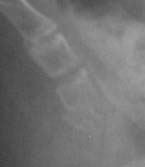 Case #1 (left): A typical and recent fracture of the distal part of the sacrum. Case #2 (center): The first fracture is well visible (x-x). There is a doubt for a second fracture at the tip of the coccyx (?). There is a densification of the bone between the two fragments, going against this diagnosis (see magnified image, on the right).

Cas 1 (à gauche) : fracture typique et récente de la partie basse du sacrum. Cas n°2 (au centre) : la première farcture est bien visible (x-x). Il y a un doute sur une seconde fracture à la pointe du coccyx (?). La densification de l'os entre les deux "fragments" va contre ce diagnostic (voir image agrandie à droite).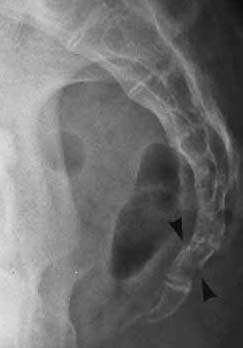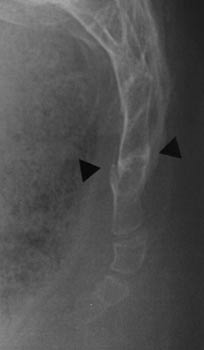 Case #3-4: On the left, the fracture is recent; on the right, it is quite healed.

Cas 3-4: à gauche, la fractuer est récente. A droite, elle est pratiquement consolidée.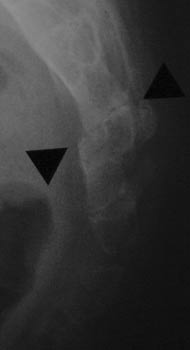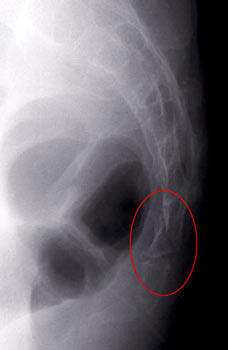 Case #5: The fracture is hardly visible and could be easily missed. Case #6: A recent sacral fracture, sent to me by an American lady. Interestingly, the report mentions a "fracture of the coccyx". I suppose that for the involved radiologist, only fractures of the upper part of the sacrum deserve to be labeled "fracture of the sacrum". These fractures occurs mainly in elder patients with osteoporosis. The tip of the sacrum, close to the coccyx, was considered by him/her tantamount to the coccyx. This may be functionally, but not anatomically, correct. Such minor mistakes could account for the fact that so many patients complain of a "broken coccyx".

Cas 5: fracture à peine visible. Cas 6: une fracture du sacrum récente, envoyée par une patiente américaine. Il est intéressant de noter que le compte rendu mentionne une fracture du coccyx. On peut supposer que pour ce radiologiste, seules les fractures de la partie supérieure du sacrum méritent d'être appelées fractures sacrées. Elles surviennent surtout chez les gens âgés avec ostéoporose. Le fait de confondre la partie distale du sacrum avec le coccyx explique peut être pourquoi tant de patients disent qu'ils ont le coccyx fracturé.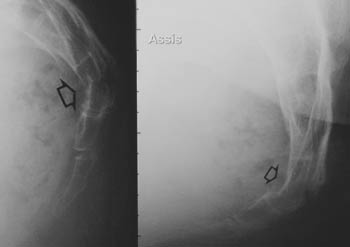 Case #7: An interesting misdiagnosed case: left, a standard film, with what looks like a severe fracture with displacement. The pain was mild, and not compatible with such a diagnosis. On the right, the sitting film (of course, same patient, same time) shows no fracture!

Cas 7 : Un cas intéressant et non diagnostiqué. A gauche, radio debout avec ce qui ressemble à une fracture déplacée. Pourtan, la douleru était modérée, incompatible avec ce diagnostic. A droite, le film assismontre qu'il n'y a pas de fracture !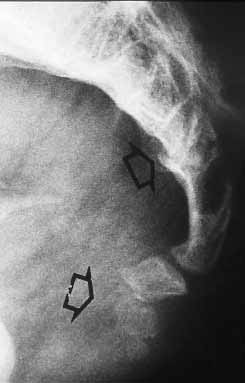 Case #8: A double lesion: a fracture of the distal part of the sacrum and a luxation of the first intercoccygeal disc in the sitting position. A good example of the fact that the coccygeal bones do not break, but so do the joints.

Cas 8 : lésion double : une fracture de la partie distale du sacrum et une luxation du premier disque inter coccygien.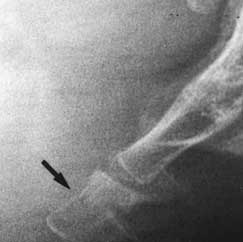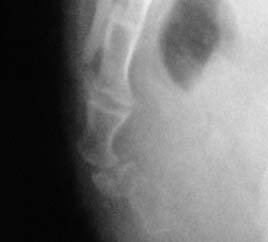 Case #9, 10: real coccygeal fractures. Two fractures of the first (left) and second (right) coccygeal vertebra.

Cas 9 et 10 : vraies fractures du coccyx. Fracture de la première (à gauche) et de la deuxième pièce coccygienne (à droite).
Comment réaliser et lire les radiographies dynamiques 1
Luxations postérieures 1 - 2
Hypermobilité 1 - 2
Epines 1 - 2 - 3
Luxations antérieures 1
Radiographies "normales"
Lésions complexes 1
Fractures 1
Calcifications 1 - 2
Déformations 1
Anatomie du coccyx